"Who do that voodoo? A scumball developer needing dough seeks occult help to land a millionaire bride."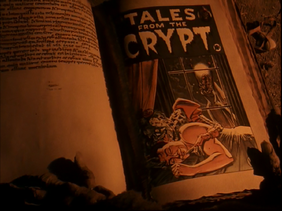 Til Death' is the 4th episode of the 2nd season and the 10th episode overall on
Tales From The Crypt
. It aired April 24, 1990 on HBO and was directed by Chris Walas, while written by Jeri Barchilon de Souza. The source for the episode came from the #28 of the Vault of Horror comic.
A land owner (D.W. Moffett) woos a haughty rich woman (Pamela Gien) with a potion from a voodoo priestess (Janet Hubert) that contains a deadly warning. After the woman of his desires rejects him the first time, he then slips her the potion which she takes unknowingly and she falls in love with him. How long will she love him for is the question? Also starring Aubrey Morris.
Opening Segment
Edit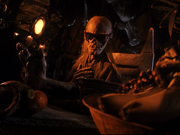 Closing Segment
Edit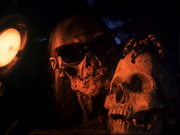 Ad blocker interference detected!
Wikia is a free-to-use site that makes money from advertising. We have a modified experience for viewers using ad blockers

Wikia is not accessible if you've made further modifications. Remove the custom ad blocker rule(s) and the page will load as expected.