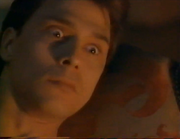 Allen is Peggy's father in the episode "Lover Come Hack to Me". According to Charles while witnessing the flashback of they honeymoon/murder, Allen died the night before Peggy was ever born.
Early Life
Edit
Apparently in a scheme similar to his future son-in-law, he was killed by his wife with a axe on their wedding night. Month later, his widow gives birth to Peggy before she died for unknown reasons.
Behind the Scenes
Edit
Allen was portrayed by Richard Eden.
Ad blocker interference detected!
Wikia is a free-to-use site that makes money from advertising. We have a modified experience for viewers using ad blockers

Wikia is not accessible if you've made further modifications. Remove the custom ad blocker rule(s) and the page will load as expected.