"Every retiree needs a pet project. So Jonas takes up taxidermy, turning the many pets his wife Anita dotes upon into a stuffed managerie. Sit still. Don't move. This one will leave you in stitches!"
-- DVD description for the episode 
---
An uptight elderly man (M. Emmet Walsh) retires and soon discovers his wife's (Audra Lindley) obsession with adopting animals into their home, leading him to use the animals for a hobby of his own.
Opening Segment
Edit
"Before I get to tonight's terror tale...I'd like to introduce you to my pet, Peeves. He has a terror tale of his own. Tonight's skin-pimpling story is about a couple with their own pet peeves. I call this chunk of chilling charnel chatter 'Collection Completed.'
Closing Segment
Edit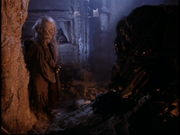 "I guess Jonas learned that a hobby can be very self-fulfilling...as long as you're not too stuffy about it. So, until next time, I want all of you to sit, stay, play dead. Good boy."
This is the last episode of Season 1.