"For the money, honey! A gold digger marries a slob in hopes of gaining an inheritance."
-- DVD description for the episode
---
A gold-digging secretary (Demi Moore) follows the advice of a fortune teller (Natalia Nogulich) and marries a slob of a man (Jeffrey Tambor) after being told that he will die shortly after inheriting a large sum of money, but the fortune teller's prediction comes true in a way that the gold-digger herself does not see coming.
Opening Segment
Edit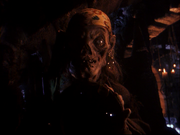 "I look into the future, my darlings... and for you, I see something... grotesque. It will sicken and disgust you! It's me!
Tonight's tale is a sickening stab at suspense, about a gold digger who wanted big bucks to buy baubles and bangles. Look out, Cathy! I see you might just buy the big one!"
Closing Segment
Edit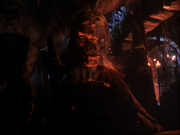 "Poor Cathy... she did buy the big one... and that Charlie, what a cut-up. Still, he wasn't sad in the end. You see, when Charlie got his just desserts, he requested seconds! And now, I predict the future... next week, you'll be at the same time, same place, same station, for another hideous, hateful hall of horror."
This old comic helped writer.
In The Cards
Edit
This old story helped writer.
The source of the story is listed as "Shock SuspenStories #6", it also features elements from "The Vault Of Horror #25". Another unrelated story also titled "Dead Right" appeared in "Tales From The Crypt #37", that story was later adapted as "Abra Cadaver" in the following season.