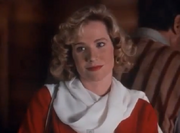 Della is Richard's wife in the episode "Three's a Crowd".
Early Life
Edit
Della was a graceful woman, married to the bussinesman Richard. Their marriage was apparently hapiness. However, Richard was sterile and become alcoholic persuaded that Della had a liaison, evidenced by her multiple presents offered by their best friend and wedding witness Alan. Richard and Della enjoy their wedding anniversary organized by Alan in a chalet. However, his jealousy was amplified under the impression that Della flirt with Alan and seem to planned their divorce for to live with Alan. Drinking even more that usually, he becomes crazy furious.
Worried of not seeing them arriving, Della comes, see with great shock the impaled body of Alan and his husband wearing her coat offered by Alan, transformed into a insane psychopath. Della tried to escape and died by strangulation by Richard with her tights. He drags her body in the other bungalow. Ironically, he was welcomed by all his friends. The secret affair between Alan and Della was just to organize a surprise party for Richard for to announce him that she was pregnant.
Behind the Scenes
Edit
She was portrayed by Ruth de Sosa.
Ruth de Sosa was the wife of Larry Drake (Santa).