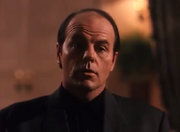 Jerry is a hotshot insurance salesman boss in the episode "The Sacrifice".
Early Life
Edit
One of his clients was the crude tycoon Sebastian Fleming. Jerry arranges that his employed James met him for a subscrition. In parralel, James and Gloria Fleming had a secret relation. James kill Sebastian by pushing him of the balcony. The police don't suspect the real murders because Sebastian pocketed the money of his insurance before signing it but things go awry when Jerry who is Gloria's obsessed first lover enters the picture claiming he had photographic evidence of the murder. His ultimatum is to share Gloria, apparently forcing her to perverse sexual games. Higly depressed by this situation, James commits suicide by ingesting sleeping drugs having written a letter where he admits that only he committed the murder, acquitting Gloria. Ironically, Gloria reveal her real face by burning the letter in front of him and rejoin her acolyte and real lover Jerry, revealing that they manipulated James since the beginning.
Behind the Scenes
Edit
He was portrayed by Michael Ironside.
Michael Ironside played in Total Recall with Arnold Schwarzenegger.
He played also in V with Gustav Vintas (Emil Manfred), Brett Cullen (Ronnie Price), Diane Cary (Hostess (Cutting Cards)) and Jeff Yagher (Enoch).
Michael Ironside was also a guest star in The Outer Limits with William Sadler (Niles Tabot), Larry Drake (Santa), Joe Pantoliano (Ulric), Brett Cullen (Ronnie Price), Amanda Plummer (Peggy), Stephen Shellen (Charles), M. Emmet Walsh (Jonas), Kevin Tighe (Sam Forney), William Hickey (Carlton Webster), D. W. Moffett (Logan Andrews) and Richard Thomas (Dr. Trask).
Later, he will be a regular Guest-Star on Desperate Housewives featuring Teri Hatcher (Stacy) and Kyle MacLachlan (Earl Raymond Digs). Miguel Ferrer (Mitch Bruckner), Kathleen York (Coralee), Brett Cullen (Ronnie Price), Ian Abercrombie (Fulton), Brian Kerwin (Donald) and Carlos Lacamara (Paolo) will be also guest star in the show.