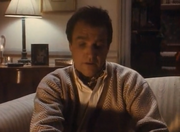 Joseph Kamen is a murderd husband in the episode "With a poker the Christmas Eve".
Early Life
Edit
Joseph Kamen was a the second husband to Elizabeth, living with her and her daughter, Carrie-Ann.
He verbally abused Elizabeth who kill him with a poker during the night of Christmas Eve 89'. Unknwon to him, Elizabeth had a secret lover with she had planned this murder schema for obtain Joseph's money.
Behind the Scenes
Edit
He was portrayed by Marshall Bell.
Marshall Bell portray Webster in Jumeaux and George/Kuato in Total Recall with Arnold Schwarzenegger.
Ad blocker interference detected!
Wikia is a free-to-use site that makes money from advertising. We have a modified experience for viewers using ad blockers

Wikia is not accessible if you've made further modifications. Remove the custom ad blocker rule(s) and the page will load as expected.