"Her stocks, bonds, house: Charles loves everything about Peggy and wants to make sure their honeymoon is a night of (murderous) passions. But there's a family secret Peggy never told him..."
-- DVD description for the episode 
---
A newlywed couple (Amanda Plummer and Stephen Shellen) retreats to the mansion of the wife's aunt in which the husband plans to kill her for her inheritance, but he soon learns that his wife's family has a dark past and that the wife herself is not who she seems to be.
Opening Segment
Edit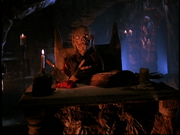 "It's good to have you back you horror-hungry humans. You know by now who's here to feed your fear. It's me, the Crypt Keeper with another flesh-creeping scream story for your shivering pleasure. I'm calling this bite of bitter bile: 'Lover Come Hack to Me.' So plump up that coffin pillow and settle back your bones. We're going to take a little ride to honeymoon hell."
Closing Segment
Edit
"Talk about family traditions. All you bouncing bachelors out there...a word of warning: before you take that matrimonial plunge check out the bride's background. Open her closet door and see if any family secrets fall out. Beware of skeletons, unless they're yours truly."
The title is based on "Lover, Come Back to Me" by Sigmund Romberg with lyrics by Oscar Hammerstein II and published in 1928.