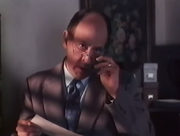 Mr. Clayton was a boss in the episode "Dead Right".
Early Life
Edit
Mr. Clayton work with Cathy as secretary. He fired her for her delay.
Behind the Scenes
Edit
He was portrayed by Earl Boen.
Earl Boen was very known for to portray Dr. Peter Silberman in Terminator movie saga with (Arnold Schwarzenegger).
He was also a guest star in Dallas with Gerrit Graham (Theodore Carne), Kathleen York (Coralee), Britt Leach (Joe (Pawnbroker)), Burke Byrne (Mack), Matthew Faison (Doctor (Only Sin Deep)), Troy Evans (Al), J. Patrick McNamara (Thorne), Paul Lieber (Alan), Don Hood (Sebastian Fleming), Chelcie Ross (George Yates), Teddy Wilson (Clyde), Colleen Camp (Mildred Korman), Abel Franco (Bushmill), Lewis Arquette (Ernest Feeley), Stefan Gierasch (Mr. Sickles), Kenneth White (Sheriff), Dorothy Parke (Sam), Mike Simmrin (Theodore) and William Franfather (Mr. Colbert).
He will be also a guest star in Lois & Clark: The New Adventures of Superman who starred Teri Hatcher (Stacy). Other guest-stars appearing are Roy Brocksmith (Vic), Gerrit Graham (Theodore Carne), Troy Evans (Al), Lee Arenberg (Marty Slash), Harry Anderson (Jim Korman), Mark Rolston (Zachary Cling), Michael Harris (Trip Anderson) and Carlos Lacamara (Paolo).