"A call girl plans to land a rich playboy and pawns her beauty in order to dress to impress. What? She misunderstands the pawnshop's refund offer? Too late to read between the lines (and wrinkles), girlie!"
-- DVD description for the episode

'Only Sin Deep' is the 4th episode of the 1st season and the 4th episode overall. It aired June 14, 1989 on HBO and was directed by Howard Deutch, while written by Fred Dekker. The source for the episode came from the #24 of the Haunt of Fear comic.
---
Cast :
Lea Thompson - Sylvia Vane
Brett Cullen - Ronnie Price
Pamella D'Pella - Raven
Burke Byrnes - Cop
Pamela Gordon - Old Crone
Simon Baker - Party Guest (uncredited)
Opening Segment
Edit
Closing Segment
Edit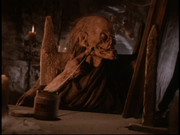 Ad blocker interference detected!
Wikia is a free-to-use site that makes money from advertising. We have a modified experience for viewers using ad blockers

Wikia is not accessible if you've made further modifications. Remove the custom ad blocker rule(s) and the page will load as expected.