"A call girl plans to land a rich playboy and pawns her beauty in order to dress to impress. What? She misunderstands the pawnshop's refund offer? Too late to read between the lines (and wrinkles), girlie!"
-- DVD description for the episode
---
A young self-obsessed prostitute (Lea Thompson) "sells" her looks to a voodoo-dabbling pawnbroker (Britt Leach) so that she can use the money in order to snag a rich bachelor (Brett Cullen), but she soon regrets it four months later when her own face begins to shockingly and unexpectedly age at an accelerated rate.
Lea Thompson - Sylvia Vane
Brett Cullen - Ronnie Price
Pamella D'Pella - Raven
Burke Byrnes - Cop
Pamela Gordon - Old Crone
Simon Baker - Party Guest (uncredited)
Opening Segment
Edit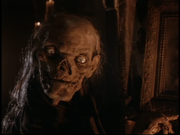 "Mirror, mirror, on the wall... who's the *fearest* of them all?
[the mirror shatters and the Crypt Keeper cackles]
Looks like I just bought 7 years' bad luck! Speaking of bad luck, it's time for another nasty little terror tale from my crawly collection... and this one's got a message, too. It's a story about greed, death and a girl, who learned that beauty... is Only Sin Deep!"
Closing Segment
Edit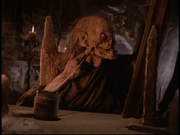 "Poor Sylvia, eh, kiddies? Guess she heard the old saying, "if looks could kill"... so she did! Haha! Just goes to show ya, if you wanna sell yourself, take a look in the mirror, first.
[the Crypt Keeper looks at his own reflection]
Eurgh! Well, see you next time, boys and ghouls!"
According to Lea Thompson, she found it difficult to perform love scenes with Brett Cullenbecause he is her close friend in real life. Her difficulty was compounded by the fact that her husband, Howard Deutch was directing her. She had to redub her dialogue in those scenes in post-production.
Before he introduces "Only Sin Deep" in the beginning of the episode, the Cryptkeeper recites the "Mirror, Mirror" chant which breaks a mirror and says that he just bought seven years bad luck. The show lasted for about seven years.
The title comes from the popular expression that "Beauty is only skin deep".