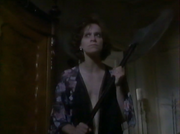 Peggy is Charles's wife in the episode "Lover Come Hack to Me". When she gets married to her sweetheart Charles, she shrugs off her aunt Edith's concerns and plans to celebrate her honeymoon. After they consummated their marriage, Charles planned to kill her, but there was a family secret that Peggy didn't tell him yet.
Early Life
Edit
Peggy was a apparently ungraceful young woman, raised by her aunt Edith. In spite of the warnings from Edith, she gets married to Charles, a careerist only interested in the fortune inherited from her mother. Unknown to her, Charles intends to kill her. On the night of their honeymoon, their car breaks down near an abandoned manor house where they spend the night and decide to make love. Before the evening, Peggy puts on makeup and gets dressed up and then waits by the door in sexy lingerie, determined that the night will be perfect. In spite of his plan, Charles seems sincerely seduced by her and they make love, consummating their marriage.
After consummating their marriage, they become relieved and tired and Charles falls asleep. However, he wakes up later hearing noises and discovers Peggy in the living room making love with another man. Feeling betrayed by his wife, he decides otherwise by saying himself that only her fortune counts before realizing that he was in a flashback describing the honeymoon of Peggy's parents. He discovers with dismay that Peggy's father died the night Peggy was concieved and that her mother killed her husband with an ax, justifying that the perfect happiness can remain eternal only by this way. Frightened by this, he wakes up and tries to kill Peggy with a gun. Having removed the bullets, he is too late and Peggy kills Charles with an ax. The immortalized family tradition, her aunt, in fact collusive in this macabre plan, comes to find her. As Aunt Edith greets her, Peggy announces that she is pregnant and that her daughter will immortalize the descent as all the women in their family
Behind the Scenes
Edit
Peggy was portrayed by Amanda Plummer.
Amanda Plummer was well-known for to portray deranged women.
Amanda Plummer was also a guest star in The Outer Limits with William Sadler (Niles Tabot), Larry Drake (Santa), Joe Pantoliano (Ulric), Brett Cullen (Ronnie Price), Stephen Shellen (Charles), M. Emmet Walsh (Jonas), Kevin Tighe (Sam Forney), William Hickey (Carlton Webster), D. W. Moffett (Logan Andrews), Michael Ironside (Jerry), Richard Thomas (Dr. Trask) and William Atherton (Malcolm Mayflower).
Amanda Plummer will be very-known for to portray Honey Bunny into the movie "Pulp Fiction" alongside Tim Roth (Jack Craig).