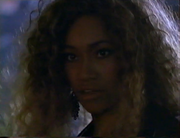 Raven is a prostitute in the episode "Only Sin Deep".
Early Life
Edit
Raven was working with Sylvia Vane on the streets of New York. At proximity, there is Ronnie Price's apartment. A night, her proxenete was shot by Sylvia. Raven don't mention her to the police. However, she was disgusted to see her well-dressed and gives to go to the reception organized by Ronnie Price.
Later, she hit accidently her former prostitute colleague that she don't recognize her because transformed into old woman and insult her. The head sculpture was broken and Sylvia become highly depressed, apparently destined to die.
Behind the Scenes
Edit
She was portrayed by Pamella D'Pella.
Ad blocker interference detected!
Wikia is a free-to-use site that makes money from advertising. We have a modified experience for viewers using ad blockers

Wikia is not accessible if you've made further modifications. Remove the custom ad blocker rule(s) and the page will load as expected.