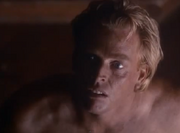 Richard is Della's husband in the episode "Three's a Crowd".
Early Life
Edit
Richard was a fortunate and ambitious businessman, married to the graceful Della. Their marriage was apparently happiness. However, Richard was sterile and become alcoholic persuaded that his wife had a liaison, evidenced by her multiple presents offered by their best friend and wedding witness Alan. Richard and Della enjoy their wedding anniversary organized by Alan in a chalet. However, his jealousy was amplified under the impression that Della flirt with Alan and seem to planned their divorce for to live with Alan. Drinking even more that usually, he becomes crazy furious.
Alan went to get Richard because Della had organized a surprise for him, Richard in a drunken jealous psychosis shot him with a crossbow, impaling him on the wall next to the hunting trophies. Some time passes and worried of not seeing them arriving, Della comes to the cabin, and sees with great shock the impaled body of Alan, her husband wearing her coat covered in what is presumed to be Alan's blood. Richard has fully transformed into a insane psychopath. Della frightened by all this runs upstairs and barricades herself in a room, Richard breaks in and she tries to escape but is caught and killed by strangulation.
He drags her body in the other bungalow. Ironically, he was welcomed by all his friends. The secret affair between Alan and Della was just to organize a surprise party for Richard for to announce him that he was a future father much to his shocking mistake.
Behind the Scenes
Edit
He was portrayed by Gavan O'Herlihy.
He portrayed officer Preston King in Twink Peaks with Kyle MacLachlan (Earl Raymond Digs), Grace Zabriskie (Mrs. Colbert), Miguel Ferrer (Mitch Bruckner), Eve Brent (Female Judge), Mark Lowenthal (Unidentified lawyer), Troy Evans (Al), Ian Abercrombie (Fulton), Frances Bay (Witch) and Lance Davis (Art Goldstein).
Gavan O'Herlihy was also a guest star in China Beach with Troy Evans (Al), Gerrit Graham (Theodore Carne), Jeris Poindexter (Noah), Kevin Kilner (James), Michael Harris (Trip Anderson), Carlos Lacamara (Paolo) and Tom Wright (Mitch).