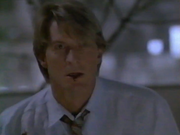 Ronnie price is a rich bussinesman in the episode "Only Sin Deep".
Early Life
Edit
Ronnie was a rich bussinesman and play-boy living inin the streets of New York. His appartment was the place of elitist party and was located from the streets where the prostitute Sylvia Vane work.
With mysterious money, Sylvia was ascended for a new social status. A night, she was at the elitist party and seduct Ronnie.
His romantic life with Sylvia become a nightmare. Sylvia become quickly a old woman. When making robber at his appartment, she shoot on Ronnie whot don't recognize her and try call cop.
Behind the Scenes
Edit
He was portrayed by Brett Cullen.
He played also in V with Gustav Vintas (Emil Manfred), Diane Cary (Hostess (Cutting Cards)), Michael Ironside (Jerry) and Jeff Yagher (Enoch).
He was also a guest star in The Outer Limits with William Sadler (Niles Tabot), Larry Drake (Santa), Joe Pantoliano (Ulric), Amanda Plummer (Peggy), Stephen Shellen (Charles), M. Emmet Walsh (Jonas), Kevin Tighe (Sam Forney), William Hickey (Carlton Webster), D. W. Moffett (Logan Andrews), Michael Ironside (Jerry) and Richard Thomas (Dr. Trask).
Later, Brett Cullen will be a regular Guest-Star on Desperate Housewives featuring Teri Hatcher (Stacy) and Kyle MacLachlan (Earl Raymond Digs). Miguel Ferrer (Mitch Bruckner), Kathleen York (Coralee), Ian Abercrombie (Fulton), Michael Ironside (Jerry), Brian Kerwin (Donald) and Carlos Lacamara (Paolo) will be also guest star in the show.
Ad blocker interference detected!
Wikia is a free-to-use site that makes money from advertising. We have a modified experience for viewers using ad blockers

Wikia is not accessible if you've made further modifications. Remove the custom ad blocker rule(s) and the page will load as expected.