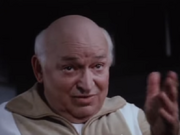 Roy is a retired man in the episode "Collection Completed".
Early Life
Edit
Anita was Jonas and Anita's neighbor.. Contrary to Jonas, he was optimist concerning his retreat and propose him to find a hobby. He was conscious that Anita was obsessed by animals. A morning, he was schocked to discovers her watching TV with Jonas whom she stuffed. His fate is unknown.
Behind the Scenes
Edit
He was portrayed by Martin Garner.
Ad blocker interference detected!
Wikia is a free-to-use site that makes money from advertising. We have a modified experience for viewers using ad blockers

Wikia is not accessible if you've made further modifications. Remove the custom ad blocker rule(s) and the page will load as expected.