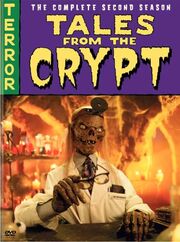 Episodes
Edit
Picture
Title
Episode #
Runtime
Original Airdate
Dead Right
7
27:54
April 21, 1990
A gold-digging secretary (Demi Moore) follows the advice of a fortune teller (Natalia Nogulich) and marries a slob of a man (Jeffrey Tambor) after being told that he will die shortly after inheriting a large sum of money, but the fortune teller's prediction comes true in a way that the gold-digger herself does not see coming.
The Switch
8
25:35
April 21, 1990
A rich elderly bachelor (William Hickey) wants to impress a young woman (Kelly Preston) by switching his body with a younger man (Rick Rossovich).
Cutting Cards
9
20:12
April 21, 1990
Two rival gamblers (Lance Henriksen and Kevin Tighe) face off in a series of gruesome games in order to see on who'll leave town when all is said and done.
'Til Death
10
26:12
April 24, 1990
A land owner (D.W. Moffett) woos a haughty rich woman (Pamela Gien) with a potion from a voodoo priestess (Janet Hubert) that contains a deadly warning.
Three's a Crowd
11
27:48
May 1, 1990
A down-on-their-luck couple (Gavan O'Herlihy and Ruth de Sosa) are invited to a cabin owned by their wealthy former best man (Paul Lieber), but the unstable husband is convinced that his wife is having an affair.
The Thing From the Grave
12
21:20
May 8, 1990
A supermodel (Teri Hatcher) and her photographer (Kyle Secor) fall in love. When the model's abusive boyfriend (Miguel Ferrer) learns of their affair, he sets out to kill the two of them. However, he soon gets a nasty surprise as love proves to be quite very strong, even in death itself.
The Sacrifice
13
27:45
May 15, 1990
An insurance agent (Kevin Kilner) kills his obnoxious client (Don Hood) in a plot to take his money and his wife (Kim Delaney). He soon finds out however that this will be quite very difficult for him when someone (Michael Ironside) shows up to blackmail him for the murder.
For Cryin' Out Loud
14
27:42
May 22, 1990
A rock promoter (Lee Arenberg) plans to run off with all of the money, but things unexpectedly get complicated when it turns out that his hearing problems were nothing more than his own hidden conscience (Sam Kinison). To make matters worse, a greedy banker (Katey Sagal) soon blackmails the promoter. Also starring Iggy Pop.
Four-Sided Triangle
15
28:05
May 29, 1990
A young farmhand (Patricia Arquette) suffers a head injury and soon believes in a delusional state that a scarecrow is her lover. Also starring Chelcie Ross and Susan Blommaert as her abusive employers.
The Ventriloquist's Dummy
15
23:56
June 5, 1990
A young ventriloquist (Bobcat Goldthwait) wants to improve his craft and seeks out help from his old hero (Don Rickles), but he soon finds out about his own hidden secret.
Judy, You're Not Yourself Today
16
28:14
June 12, 1990
An elderly cosmetics saleswoman (Frances Bay) visits the home of a young vain and eccentric couple (Brian Kerwin and Carol Kane) and convinces the wife to try on a magic necklace that switches the wife's body with hers.
Fitting Punishment
17
26:31
June 19, 1990
A funeral home director (Moses Gunn) cuts corners when it comes to his own line of work. Following a tragic car crash, he is made the legal guardian of his teenage nephew (Jon Clair). The nephew is eventually made as an apprentice mortician in order to earn his room and board and soon comes to resent the mean-spirited behavior and stinginess of his uncle. For the uncle, it may come full circle when he quotes the Bible often.
Korman's Kalamity
18
27:14
June 26, 1990
An employee of the Tales from the Crypt comic (Harry Anderson) is put-upon by his shrewish wife (Colleen Camp) to take potent fertility pills. After a series of weird and bizarre monster attacks, an attractive policewoman (Cynthia Gibb) interrogates the cartoonist, believing that he is somehow making his stories come true. The cartoonist must figure out the cause of the threat while also struggling with his own personal feelings for the policewoman.
Lower Berth
19
25:20
July 3, 1990
A two-faced circus sideshow freak (Jeff Yagher) falls in love with a 4000-year-old mummy which is said to be cursed. Also starring Lewis Arquette, Stefan Gierasch, and Mark Rolston as his abusive captors.
Mute Witness to Murder
20
25:45
July 10, 1990
After witnessing a brutal murder, a woman (Patricia Clarkson) goes mute and is cared for by a psychiatrist (Richard Thomas) who had committed the murder himself and wants the woman to be silenced forever.
Television Terror
21
21:21
July 17, 1990
A tabloid news show host (Morton Downey, Jr.) and his camera crew investigate an abandoned house which is allegedly haunted by the ghost of a woman who had killed seven men. The host and the crew get more than they bargained for when a chain of supernatural happenings indeed begin taunting and haunting them.
My Brother's Keeper
22
24:20
July 24, 1990
The relationship between Siamese twin brothers (Timothy Stack and Jonathan Stark) becomes strained when the good twin doesn't want to be separated from the bad twin.
The Secret
23
25:28
July 31, 1990
A 12-year-old orphan is adopted by a rich childless couple (William Frankfather and Grace Zabriskie) who harbor a dark secret.
Ad blocker interference detected!
Wikia is a free-to-use site that makes money from advertising. We have a modified experience for viewers using ad blockers

Wikia is not accessible if you've made further modifications. Remove the custom ad blocker rule(s) and the page will load as expected.