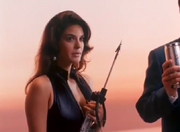 Stacy is a top model in the episode "The Thing from the Grave".
Early Life
Edit
Stacy is a top model with a very nervous and abusive agent/boyfriend named Mitch Bruckner. When her photographer friend Devlin Cates offers her refuge in his home from her terror, they ultimately fall in love and gives her a special maya necklace as symbol of love and also promises her that he'd protect her no matter what. When Mitch learns of this, he goes into a deadly rage, attract by phone and shoot on Cates, before burying him, since six days after, he tried to persuad a unsuspecting and worry Stacy that Devlin was in relation with others models. Searching Devlin at his home, Stacy suspect that he was killed by seeing his provisions on a table. When she listen his phone messaging, she was attacked and kidnaped by Mitch. Attached in a bedroom, she cries for help. A vicious Mitch tell her that he had buried Devlin at proximity to the house. Ironically, the dead Devlin wake, transformed into zombie. Trying to rape her, Mitch was interrupted, attacked and purchased by Devlin who buried him alive with himself. Stacy had comprehension that his lover had protect her no matter what.
Behind the Scenes
Edit
She was portrayed by Teri Hatcher.
Teri Hatcher was featured in the movie Tango & Cash who include also Roy Brocksmith (Vic) and Lewis Arquette (Ernest Feeley).
Later, Teri Hatcher will be famous for portray Lois Lane, Superman's girlfriend in Lois & Clark: The New Adventures of Superman. Interestly, her role in the episode is a ironic anticipation because she was a lady-in-distress saved by a surnatural lover, a zombie. Many guest stars are Roy Brocksmith (Vic), Gerrit Graham (Theodore Carne), Troy Evans (Al), Earl Boen (Mr. Clayton), Lee Arenberg (Marty Slash), Harry Anderson (Jim Korman), Mark Rolston (Zachary Cling), Michael Harris (Trip Anderson), Carlos Lacamara (Paolo) and Paul Gleason (Robinson).
Later, she portray Paris Carver in the James Bond movie Tomorrow Never Dies alongside Vincent Schiavelli (Robert).
Later, she portray Susan Meyer in Desperate Housewives alongside Kyle MacLachlan (Earl Raymond Digs).Miguel Ferrer (Mitch Bruckner), Kathleen York (Coralee), Brett Cullen (Ronnie Price), Ian Abercrombie (Fulton), Michael Ironside (Jerry), Brian Kerwin (Donald), Carlos Lacamara (Paolo), William Atherton (Malcolm Mayflower) and Jon Polito (Nikos Stano) will be also guest star in the show.