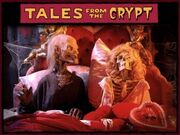 Welcome to the Tales From the Crypt WikiEdit
Tales From the Crypt is a horror anthology television series that ran on the cable network HBO from 1989 to 1996. The show was based off of the popular EC Comics of the same name from the 1950's. Stories for the show were taken from that comic or any of the other four EC horror comics during that time - Haunt of Fear, Vault of Horror, Crime SuspenStories, and Shock SuspenStories. Because the show aired on HBO, that gave it unlimited freedom in terms of gore, nudity, and profanity. Episodes had to be considerably edited when airing on syndicated networks.
Ad blocker interference detected!
Wikia is a free-to-use site that makes money from advertising. We have a modified experience for viewers using ad blockers

Wikia is not accessible if you've made further modifications. Remove the custom ad blocker rule(s) and the page will load as expected.