"Who's the puppet? Who's the master? A wannabe ventriloquist discovers his idol's show-biz secret...."
-- DVD description for the episode
A young ventriloquist (Bobcat Goldthwait) wants to improve his craft and seeks out help from his old hero (Don Rickles), but he soon finds out about his own hidden secret.
Opening Segment
Edit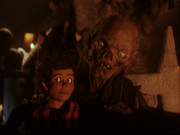 "Good evening, fear fans. You're just in time. Contents: one ventriloquist's dummy Hacme Novelty Company, Battle Shriek, Michigan. Oh, goody. Watch this, kiddies. You won't see my lips movie. You know why? I don't have any! Well hello, Dickie. Would you like me to tell a tale from the crypt? No thanks, scat-breath. Then how about sitting a little closer to the fire?"
[Crypt Keeper throws the dummy into a fire]
"That's better. Now I can dole out a diseased little ditty about the schizo-frantic nature of show biz and how to hack your way to the top! So, grab hold of your guts, kiddies...cause tonight you get to rub elbows with the ventriloquist's dummy."
Closing Segment
Edit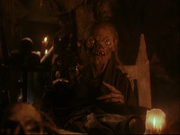 "What do you say, folks? Billy deserves a big hand, don't you think?"
(Drumroll)
"Sheesh, the things some folks will do to get a-head in show business."
[Crypt Keeper pulls head off dummy}
"Oh well. Next time somebody tells Billy he's no dummy, he can say: "Wanna bet?"
Richard Donner, the episode's director, has a cameo as the guy talking to the lady at the bar when Don Rickles has a drink. The lady is Mindy Rickles, Don's daughter.
The name of The Ventriloquist, "Mr. Ingels," is a reference to legendary horror artist Graham Ingels. Ingels is best known for his work of "The Old Witch" from The Haunt of Fear, the sister title of Tales From the Crypt published by E.C. After horror comics were vilified and ceased to be published in the mid 1950s, Ingels relocated to Florida and became a recluse. Although he taught art lessons and was well regarded in his community, friends and former associates were clueless as to his whereabouts, or even if he were still alive.